Firefighters couldn't be everywhere. So this Corey Road resident watered down his burning fence with a bucket.
Firefighters stand by in case of flare-ups. When there was one, they put it out within minutes.
T

r
agedies bring communities together. Today, Brevard County came together.
Wildfires have damaged or destroyed 51 homes in the southern part of the county. But the residents are resilient, hardy and stubborn.
I went to Corey Road in Malabar, where a fire destroyed two homes last night. I didn't get as close to the fires as I did
last time
, but I snapped a few photos anyway.
When I arrived, a helicopter,
above
, was racing from a pond to the main blaze as it threatened a home with a pile of tires in the backyard. Many residents said they have been afraid for a long time that the highly combustible material would put their homes in danger.
But the firefighters didn't let that happen.
One large home on the 2000 block of Corey Road was surrounded by fire this afternoon. A man drove by on a bicycle as I photographed it.
"There was brush all around that huge house this afternoon. Now, it's all burned, but the home is still there," he said. "That guy was lucky."
The land around the home was scorched, but the house stood firm,
above
.
Others were not as fortunate.
On the 3000 block, a fireman's home and his vehicles were untouched. Next door, only the charred concrete walls of a house were left. A gutted van,
above
, and car sat in the driveway.
My camera malfunctioned, and I was walking back toward my car when a woman in a sport utility vehicle stopped and asked where I was parked. Her name was Barbara, and her SUV was full of her and her husband's belongings. She wanted get the SUV away from her house and the fire, then she wanted me to give her a ride back to her home.
"It wouldn't make sense to pack up to evacuate and then leave the car in the driveway," Barbara said. "My husband's back there spraying everything with the hose. He's a dumbass."
Barbara was especially worried because her house is "severely underinsured."
"You can blame that on the hurricanes," she said.
I dropped her off at the intersection near her home. The rest of the road was closed.
I saw others like Barbara. They filled open-air trailers with luggage. They were ready to leave if the wind shifted. I saw residents wearing masks as they drove by me. Tears were rolling down their faces.
Megan O'Brien of Corey Road in Malabar is flanked by two neighbors. There's an old garage off to the left of this picture that was damaged. I asked O'Brien about it, and she said it was hit during the 2004 hurricanes, not during the 2008 wildfires.
After I fixed my camera, I walked back toward Barbara's house. I met one of her neighbors, Megan O'Brien. She was climbing down off her house after watering the roof. "I've been up there since noon," she said.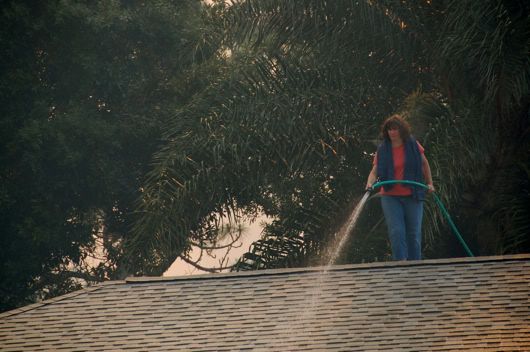 A palm tree burst into flames after I finished talking with O'Brien. A volunteer firefighting truck raced 100 yards to extinguish it within a minute.
As the sun began to set, the fire and smoke didn't let up. I had been wandering Corey Road for hours. My clothes smelled of smoke. My face was dotted with ash. My sunglasses were coated with a gray film.
The smoke was bothering my eyes and nose so much that I had to leave. But since I had arrived, the routes I took to Corey Road had been cut off. U.S. 1 was closed. Interstate 95 was eerily empty,
above
. All the major north-south routes were blocked.
I drove to an I-95 overpass in Malabar, where I had a 360-degree view of the situation. Plumes of smoke rose from at least five regions. Fire was everywhere.
Considering the size of the blazes - more than 3,000 acres have burned - it's amazing that hundreds of homes haven't been destroyed.
Today would be a good day to appreciate our county and its public servants.
The rays of sun shining through the smoke are strangely beautiful.




This is in front of Megan O'Brien's home. In the background, a chopper dumps water on a tire fire.




O'Brien's driveway.